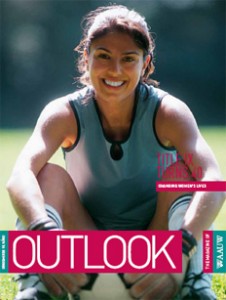 The American Association of University Women (AAUW), founded in 1881, is the nation's leading organization advocating equity for women and girls. Its national membership of 80,000 seeks to advance equity for women and girls through advocacy, education, and research. People of every race, creed, age, sexual orientation, national origin, and level of physical ability are invited to join. The organization funds research, community projects, and fellowships and grants for outstanding women. AAUW's Legal Advocacy Fund provides funds and a support system for women seeking judicial redress for sex discrimination. AAUW is especially concerned about pay equity.
AAUW-CA

AAUW California was launched in San Francisco in 1886 and began lobbying immediately. It remains the state's most active and diverse organization for women with nearly 14,000 members in more than 150 branches, plus 6,000 at-large members.
Have you visited the AAUW California Facebook page?  Take a look at it today at Facebook AAUW California.
Stockton Branch
Welcome to the Stockton Branch of the American Association of University Women. Founded in 1928, California's Stockton Branch has approximately 180 members. Branch members raise funds for AAUW's many programs. On behalf of AAUW, we are involved in community activities, and we speak out on public policy issues such as educational equity, civil rights and equity in the work place, reproductive choice, and health care.
Member Involvement Opportunities
We offer a variety of interest groups for our members to enjoy. Members are also active in many Stockton community organizations. We are especially proud of our work with girls and women in Stockton. Our mentoring program encourages young women to stay on track toward a college education. Through a statewide AAUW program, we send several girls to a week-long math and science camp every summer. We also offer scholarships to graduates of Delta College who are matriculating at a four-year school. Studies have shown time and again that education is key to success in life.
Stockton Branch members may be as active as they wish by attending branch meetings, working on committees, participating in interest groups, and helping with fundraisers. We offer a balance of activities that combine fun, friendship, learning, and advocacy. Each member receives our monthly newsletter, the Delta Steamer. All members also receive the AAUW magazine, Outlook.